En la seccion «Scheme, CL y Elisp» de esta misma web (que para quien no este al tanto tambien actualizo aunque no aparecen como posts) comentaba los distintos libros que existen para aprender estos 3 dialectos. Ademas he incluido los libros referentes a Haskell como excepcion ya que es un lenguaje bastante interesante. Son estos:
Libros introductorios:
Para aprender Scheme: The little schemer
Para aprender Elisp: C-h i en emacs tiene un estupendo manual de elisp en el que practicar en el propio entorno.
Para aprender CL:  Common LISP: A Gentle Introduction to Symbolic Computation
Para aprender Haskell: Learn You a Haskell for Great Good!: A Beginner's Guide
Libros avanzados:
El libro mas avanzado de Scheme: Structure and Interpretation of Computer Programs
El libro mas avanzado para Elisp: An Introduction to Programming in Emacs Lisp
El libro mas avanzado para CL: On Lisp
El libro mas avanzado para Haskell: The Haskell Road to Logic, Maths and Programming
Ademas de estos libros, recordemos que tambien adquiri un libro interesante (ademas de gracioso) para aprender CL mediante el desarrollo de juegos, «The Land of Lisp«. Y por fin llegaron los libros de Lisp y el de Haskell.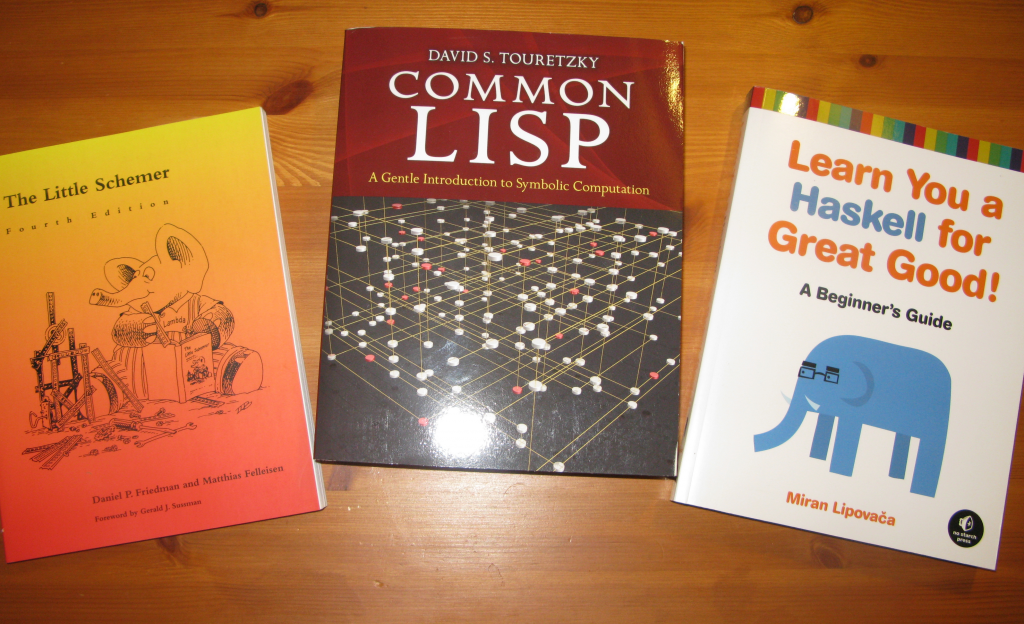 Por supuesto de estos libros, el mas tocho es el de Common Lisp, como no. El mas surrealista es el de Haskell, y el mas elegante es el de scheme… al menos es la primera impresion que he tenido al ojearlos asi por encima. Ire actualizando la web en la seccion de Lisp segun lo que vaya aprendiendo de estos libros.