mu4e es un moderno cliente de correo basado en el indexador/buscador de emails mu. La principal ventaja de esta herramienta es la super eficiencia a la hora de leer los correos. Entre algunas de sus funcionalidades destaca:
Completamente basado en busquedas: no hay directorios, solo peticiones.
Documentacion completa con ejemplos de configuracion.
La interfaz de usuario esta optimizada para velocidad con keybindings cortos para acciones.
Es asincrono, por lo que las acciones no bloquean emacs.
Soporte criptografico
Se emplea el texto enriquecido a la hora de escribir emails mediante org-mode
Permite el auto-completado basado en los mensajes previos.
Es extensible.
Pasos para la instalacion:
Primero debemos descargar el codigo o bien de la web https://code.google.com/p/mu0/downloads/list o bien directamente del repositorio git:
$ git clone https://github.com/djcb/mu.git
$ cd mu
Instalamos otros paquetes necesarios para la compilacion de mu4e o su uso:
$ sudo apt-get install libgmime-2.6-dev libxapian-dev gnutls-bin guile-2.0-dev html2text xdg-utils
Instalamos offlineimap y sqlite:
$ sudo apt-get install offlineimap sqlite
Configuramos, compilamos e instalamos mu (tambien se puede instalar por ejemplo desde los repositorios de debian con apt):
$ autoreconf -i
$ ./configure
$ make
$ sudo make install
Configuramos offlineimap para que pueda acceder a emails de gmail, creamos un fichero llamado .offlineimaprc en nuestro directorio de usuario:
[general]
# List of accounts to be synced, separated by a comma.
accounts = Gmail
maxsyncaccounts = 3

[Account Gmail]
# Identifier for the local repository; e.g. the maildir to be synced via IMAP.
localrepository = Gmail-local
# Identifier for the remote repository; i.e. the actual IMAP, usually non-local.
remoterepository = Gmail-remote
# Status cache. Default is plain, which eventually becomes huge and slow.
status_backend = sqlite

[Repository Gmail-local]
type = Maildir
localfolders = ~/Maildir

[Repository Gmail-remote]
type = IMAP
remotehost = imap.gmail.com
remoteuser = 

<TU_EMAIL@gmail.com>


remotepass = 

<TU_PASSWORD>


ssl = yes
maxconnections = 1
realdelete = no

folderfilter = lambda foldername: foldername in ['INBOX', 'Dev']
# Necessary as of OfflineIMAP 6.5.4
sslcacertfile = /etc/ssl/certs/ca-certificates.crt

Checkeamos que podamos acceder a nuestro email mediante mu:
$ mu index
o bien podemos probar lanzando
$ offlineimap
El output que debemos ver es algo asi.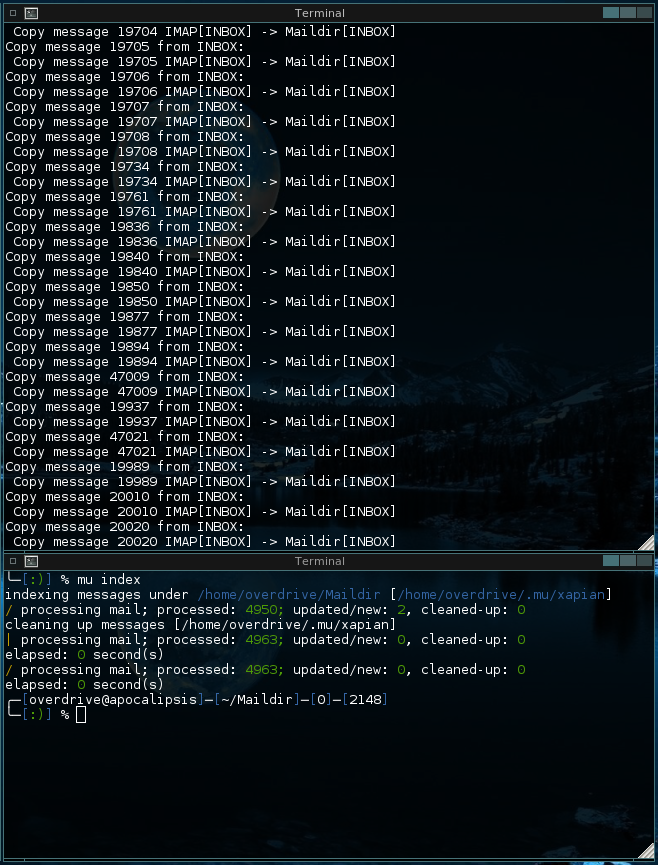 Ahora anadimos las siguientes lineas de configuracion a nuestro .emacs:
;;----------------------------------------------------------
;; ---- BEGIN Email client ----
;;----------------------------------------------------------
(add-to-list 'load-path "/usr/local/share/emacs/site-lisp/mu4e")

(require 'mu4e)

;; Maildir
(setq mu4e-maildir "~/Maildir")
(setq mu4e-drafts-folder "/[Gmail].Drafts")
(setq mu4e-sent-folder   "/[Gmail].Sent Mail")
(setq mu4e-trash-folder  "/[Gmail].Trash")

;; Don't save message to Sent Messages, Gmail/IMAP takes care of this
(setq mu4e-sent-messages-behavior 'delete)

;; Setup some handy shortcuts
;; you can quickly switch to your Inbox -- press ``ji''
;; then, when you want archive some messages, move them to
;; the 'All Mail' folder by pressing ``ma''.
(setq mu4e-maildir-shortcuts
      '( ("/INBOX"               . ?i)
         ("/[Gmail].Sent Mail"   . ?s)
         ("/[Gmail].Trash"       . ?t)
         ("/[Gmail].All Mail"    . ?a)))

;; Allow for updating mail using 'U' in the main view:
(setq mu4e-get-mail-command "offlineimap")

;; Something about ourselves
(setq
 user-mail-address "

your_email@gmail.com

"
 user-full-name  "

nickname (Your Name Here)

"
 message-signature
 (concat
  "

nickname (Your name here)

\n"
  "Email: 

your_email@gmail.com

\n"
  "Blog: 

your_blog.org

\n"
  "Douban: 

your_website.com

"
  "\n"))
(require 'smtpmail)

;; For emacs-24 you can use:
(setq message-send-mail-function 'smtpmail-send-it
    smtpmail-stream-type 'starttls
    smtpmail-default-smtp-server "smtp.gmail.com"
    smtpmail-smtp-server "smtp.gmail.com"
    smtpmail-smtp-service 587)

;; Don't keep message buffers around
(setq message-kill-buffer-on-exit t)

;; Attaching files with M-x dired and then C-c <RET> C-a
(require 'gnus-dired)
;; make the `gnus-dired-mail-buffers' function also work on
;; message-mode derived modes, such as mu4e-compose-mode
(defun gnus-dired-mail-buffers ()
  "Return a list of active message buffers."
  (let (buffers)
    (save-current-buffer
      (dolist (buffer (buffer-list t))
	(set-buffer buffer)
	(when (and (derived-mode-p 'message-mode)
		(null message-sent-message-via))
	  (push (buffer-name buffer) buffers))))
    (nreverse buffers)))

(setq gnus-dired-mail-mode 'mu4e-user-agent)
(add-hook 'dired-mode-hook 'turn-on-gnus-dired-mode)

;; Viewing inline images
(setq mu4e-view-show-images t)
;; Use imagemagick, if available
(when (fboundp 'imagemagick-register-types)
   (imagemagick-register-types))

Checkeamos que podemos acceder a nuestro email mediante mu4e en emacs: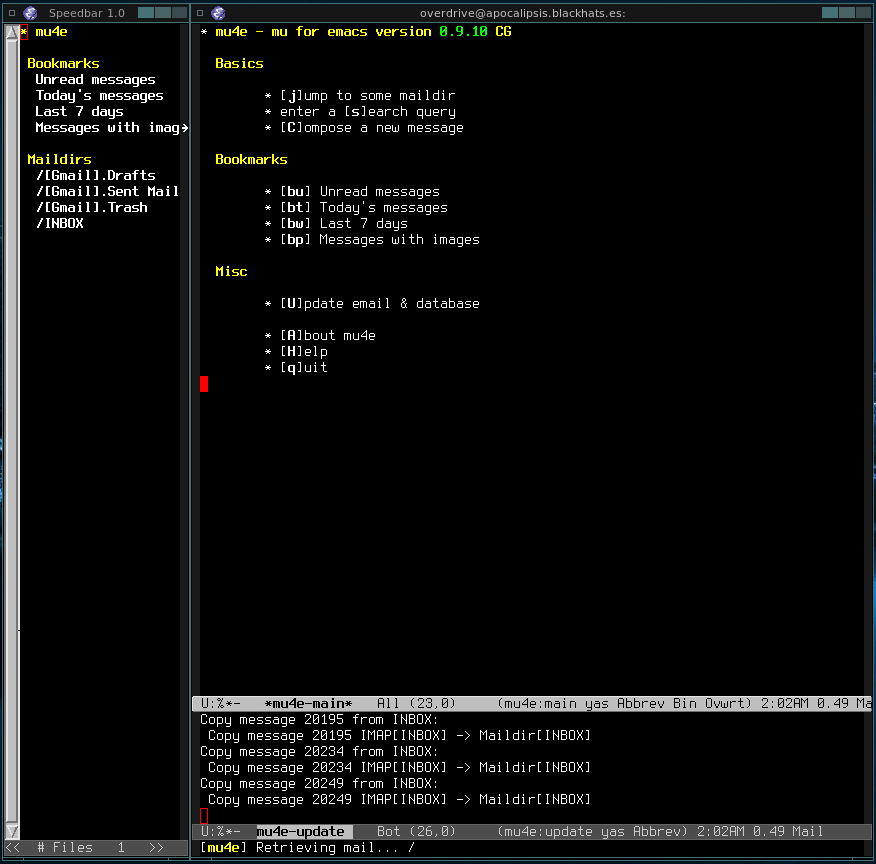 Al pulsar la «U» vemos que se esta actualizando el email. Podemos tambien cargar un speedbar con M-x speedbar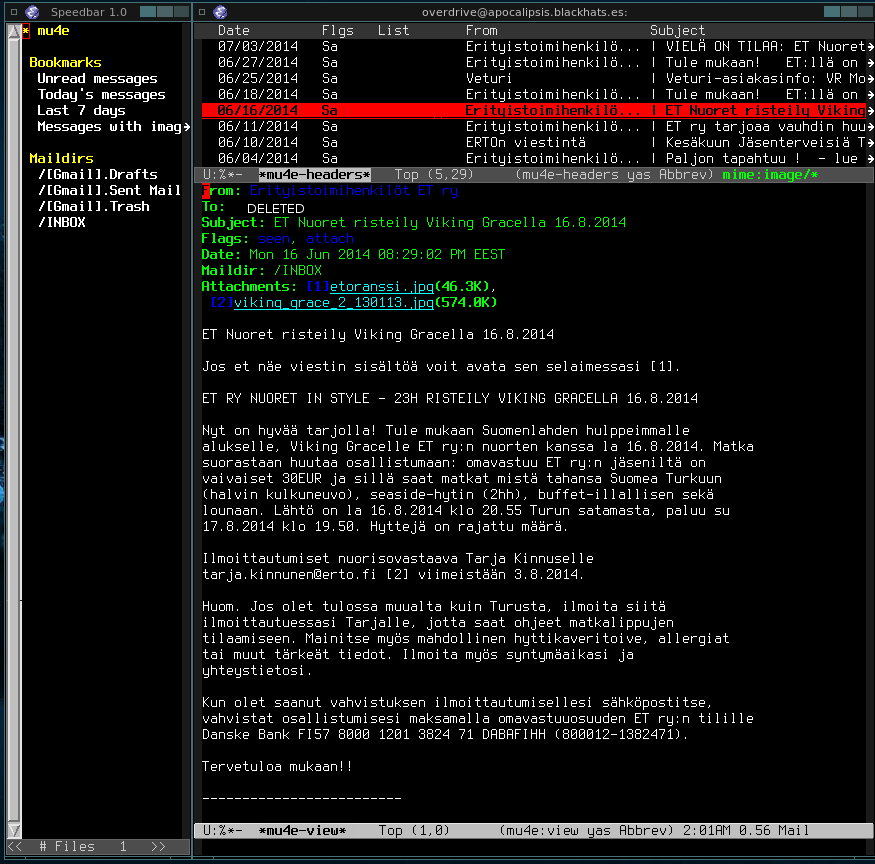 Lectura de emails mediante «j i» para el jump inbox. Para escribir emails simplemente pulsamos «C» de compose y para enviarlos «C-c C-c»
Referencias:
http://wenshanren.org/?p=111
http://www.emacswiki.org/emacs/mu4e
http://www.djcbsoftware.nl/code/mu/cheatsheet.html
https://github.com/djcb/mu/blob/master/README
http://www.djcbsoftware.nl/code/mu/mu4e.html
http://www.djcbsoftware.nl/code/mu/mu4e.html
http://emacs-fu.blogspot.fi/2012/08/introducing-mu4e-for-email.html
http://zmalltalker.com/linux/mu.html
http://www.djcbsoftware.nl/code/mu/mu4e/Speedbar-support.html
http://www.djcbsoftware.nl/code/mu/mu4e/Attaching-files-with-dired.html
http://www.djcbsoftware.nl/code/mu/mu4e/Writing-messages.html
http://www.djcbsoftware.nl/code/mu/mu4e/Attaching-files-with-dired.html#Attaching-files-with-dired
http://www.djcbsoftware.nl/code/mu/mu4e/Viewing-images-inline.html
http://www.emacswiki.org/emacs/mu4e